As an instructor, you put countless hours into planning your course for the upcoming semester. Running games with the MobLab takes the burden of prepping experiments off of you with 60+ pre-configured (yet customizable) games, and lesson modules with instant results/insights. You can also design your own surveys/question sets using the Survey Tool!

For those of you who have used MobLab in previous courses, we want MobLab to be the easiest and most fun part of planning for your new cohort of students. Thanks to the input from our instructor community, we've developed the Copy Class tool. With the this new tool, you can easily carry over all (or some) of your content from a previous term into a new class with a few clicks.

Simply select the three ellipses next to your course's name, and click on Copy Class!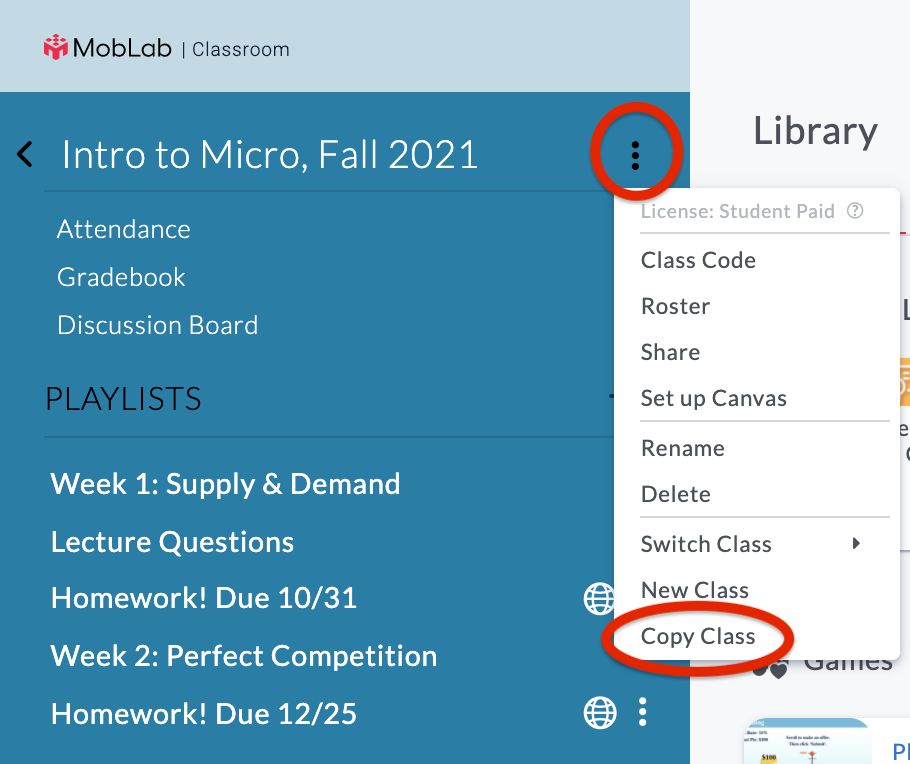 A pop up window will appear to help you customize the activities you want to copy over into a new class. Once you have finalized those steps, you're ready to invite your students to join! For a more in-depth look, please refer to our support article: How to Copy a Class.

This tool also works great if you have multiple sections of the same class.You can now have the same content available for both cohorts of students, instead of configuring new experiments in two separate MobLab classes. Better yet, not only those this allow you to run your content in parallel without additional effort but also recycle it year after year. You set up your class once and you are set to go for the rest of the years with a few simple clicks.

For those of you who are new to the platform and have not yet created your first MobLab class, you can follow these easy steps:


If you would like to meet with a member of the MobLab team in preparation for the upcoming term, you can schedule a demo here.